Custom Thermocouple Wire

See Thermocouple wire page for more information
Thermocouple wires are cables that are manufactured with two different metals, and are used to measure temperature. Different "thermocouple types" are used to measure various temperatures. The insulation on thermocouple wires are color coded for identification purposes.
These wires come in "Thermocouple Wire Grade," and "Extension Grade."
Thermocouple Wire Grade wires are used to make the sensing point, or the probe part of thermocouples. The Extension Grade wires are used to extend thermocouple signals from a probe, then back to the instrument. Thermocouple wires may be used as an extension wire, but the same does not apply vice-versa.
Extension Grade cables have an "X" following the thermocouple type letter.
At Aerospace Wire & Cable we have the following capabilities in both Thermocouple Wire Grade and Extension grade.
Wire types
Type K / KX
Type E / EX
Type J / JX
Type T / TX
Type RSX
Thermocouple grade types with SLE (special limits of error) conductors are also available upon request. Insulation materials include high temperatures to low temperature:
PFA 260C
FEP 200C
ETFE 150C
E-CTFE 150C
Low Smoke Plenum PVC 60C
Thermocouple wires can also be approved for (UL) listed Power Limited Tray Cable (PLTC).  Customization and Manufacturing Capabilities. Click here for Thermocouple Wire
Contact us and receive our technical specifications guide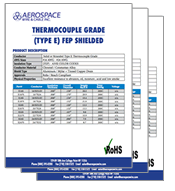 Customization Capabilities For Thermocouple Wire
Customization capabilities regarding color codes, cabling, shields, AWG sizes are also available upon request.

- FEP Insulation (200°C)


- PFA Insulation (260°C/500°F)