Thermocouple Type E Wire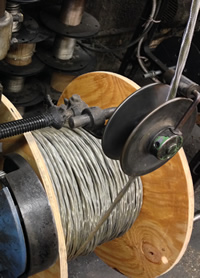 Please complete the form on the right for technical specifications on thermocouple type E and EX.
Customization Capabilities For Thermocouple Type E Wire
At Aerospace Wire & Cable we offer Type E in both thermocouple wire grade, and extension grade in both solid and stranded constructions. Temperature ratings for insulating materials range from 60ºC to 260ºC. Cables with SLE conductors are also available upon request.
Customization capabilities regarding color codes, cabling, shields, AWG sizes are available upon request.
Thermocouple Type E is comprised of Chromel (positive) and Constantan (negative). It is non-magnetic, and has a high output, which makes it perfect for low-temp (cryogenic) usage. The temperature range for Type E Thermocouples is –(270ºC - 910ºC*). When compared to other thermocouple types, the Type E demonstrates higher accuracy and a stronger signal.
*thermocouple grade
See more: Thermocouple wire, Thermocouple Type K and Custom Thermocouple Wire page for more information